Free Toilet Visit
Walking around in Rotterdam and searching for a
WC, Toilet, Restroom or Washroom?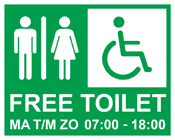 Door sticker example
The following companies offer a free visit to the toilet.
(No consumption required, the company gets an allowance from Municipality of Rotterdam.)
Located near Hofplein
Hilton Rotterdam, Weena 10
Located near the City Hall
Bar & Kitchen Cornelis, Stadhuisplein 3
Cafe Fust, Stadhuisplein 21
Coconuts, Stadhuisplein 19
Happy Italy, Korte Lijnbaan 13
Hotel The James, Aert van Nesstraat 25
Brasserie Timmerhuis, Halvemaanpassage 121
Located near the Koopgoot
Anna & Max, Korte Hoogstraat 20
Brasserie Schielandhuis, Coolsingel 114
Located near the Market Hall
Poffertjes Salon Seth, Hoogstraat 147
Happy Italy, Binnenrotte 102A
Bokaal, Nieuwemarkt 11
Spirit, Mariniersweg 9
Vlaamsch Broodhuys, Meent 8A
De Gele Kanarie, Goudsesingel 284
Located near the Cube Houses
Stayokay, Overblaak 85
M'Eat, Haringvliet 637
Plan C, Slepersvest 1
Pardoen, Spaansekade 62
Stockhom Bar, Spaansekade 12
Dutch Maritime Pub, Spaansekade 34
Kade 4, Spaansekade 4
Popocatepetl, Spaansepoort 71
Café Vader Kleinjan, Spaansepoort 73
Mooi, Oost-Wijnstraat 8
Lot en Daan, Oost-Wijnstraat 24
Apartt, Blaak 4
91 Spices, Gelderseplein 46
Located near the Museum Harbor
Beak Food&Drinks, Blaak 329
Proeflokaal Reijngoud, Schiedamse Vest 148
Nieuw Rotterdams Cafe, Witte de Withstraat 63
Wijnbar Het Eigendom, Witte de Withstraat 45 B
Worm, Boomgaardsstraat 71
Located near the Hef Bridge
Hotel Pincoffs, Stieltjesstraat 34
Located near the Cruise Terminal
Hotel New York, Koninginnenhoofd 1
Fenix Food Factory, Veerlaan 19D
Happy Italy, Wilhelminakade 123
Located near Museum Park
Hotel Santa Maria, Scheepstimmermanslaan 13
Located near the Euromast
Café De Ballentent, Parkkade 1
Located near to Historic Delfshaven
Hudson 010, Hudsonplein 1A
Other
Brasserie Stroom, Lloydstraat 1, near to the St.Jobshaven.
Eetcafe Boulevard, Burgemeester Baumannlaan 145-147, Overschie.
Verhage, Burgemeester Baumannlaan 123A, Overschie.
Happy Italy, Bergweg 335, Oude Noorden.
Eetcafe Bergsepolder, Bergselaan 340B, Bergpolder.
Tuttie Capo, Van Beethovensingel 64, Hillegersberg.
Ferry, Westblaak 127, close to Santa Clause Statue.
Lunchroom Figaro, Oude Binnenweg 53A.
Chocolate Company Cafe, Oude Binnenweg 109A.
Vlaamsch Broodhuys, Nieuwe Binnenweg 127B.
Cafe Lunchroom Shino, 1e Middellandstraat 128B.
Café Tante Sidonia, Schiedamseweg 223A.
Happy Italy, Cor Kieboomplein 120, close to Feyenoord stadium The Kuip.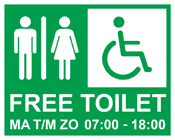 Door sticker example
View the toilet locations on google maps or on the map of Municipality Rotterdam.
There is also the "HogeNood"
Toilet App
. To find the nearest (paid or free) toilet to your location anywhere in the Netherlands.